Playing Card Stock
Our factory offers many high-quality weights and core types of playing card stock for custom card and board games. Fully understanding these terms and knowing what card type suits your needs is the first step in creating your game.
Cardstock Weight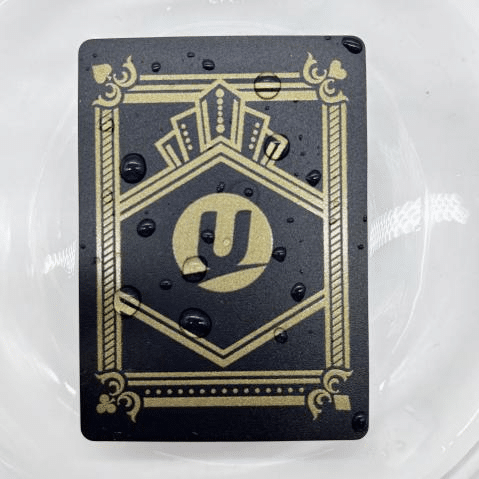 Cardstock weight is measured in GSM (grams per square meter). This is the universal measure for playing card paper weight. The higher the number (300gsm, 330gsm, 350gsm), the thicker and heavier the stock and card will be. Generally speaking, heavier cardstock gives your cards a higher-quality feel. We also offer plastic playing cards made of durable PVC. These durable, waterproof cards are great for parties and children's games.
Card Cores
Card stock is also categorized by its core: blue, black, grey, or white core. You can tell what core cards use by tearing them in half as seen in the below picture. This shows blue core on the top and black core on the bottom. The core prevents the card from being transparent when held up to a bright light.
Blue core is the standard and is used in most of the games found at your favorite game shop.
Black core is the highest quality card core. This is favored by casinos because the dark core doesn't allow players to see-through cards.
Conclusion
If you would like to see our card stock samples, just contact us and we can send you free samples.